Bottle Shock
Based on a true story of love, victory and fermentation.
Be on the lookout for Bottle Shock, a hugely entertaining movie, and not just for oenophiles. Director Randall Miller, who co-wrote the script with his wife Jody Savin and Ross Schwartz, keeps the plot brimming with spirit and wit. The focal point is a historic 1976 blind wine tasting in Paris in which wines from California's Napa Valley scored a shocking victory over France's noble varietals. Miller is spinning delightfully on the true story that put Napa on the wine map. The architect of that victory is Steven Spurrier (Alan Rickman), a British wine snob based in Paris who travels to Napa to test the underdog vineyards. Rickman is deliciously good as this fish out of water. He is droll, dazzling perfection. And there are fine turns by Bill Pullman as Jim Barrett, who blew off his law firm to cultivate a legendary chardonnay at his Chateau Montelena, and Chris Pine as the son who slowly comes to appreciate his dad's quest. Miller's movie, gorgeously shot by cinematographer Michael J. Ozier, catches the dappled beauty of Napa, but he triumphs by finding the soul of the rebels who tend its grapes. Bottle Shock is something special: there's magic in it. – Peter Travers, Rolling Stone
Showtimes:
No screenings currently scheduled.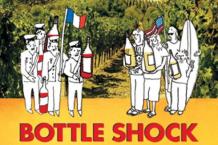 Directed by:
Randall Miller
Starring:
Chris Pine, Alan Rickman, Bill Pullman, Eliza Dushku
Screenplay by:
Jody Savin, Ross Schwartz & Randall Miller