CURIOUS MINDS SPEAKERS SERIES
ln partnership with Hot Docs
HOT DOCS wildly popular speaker series goes digital! The same great lectures all on Hot Docs at Home.
DISCOUNT CODE
If you are a Hyland Member write to us at: adlan@hylandcinema.com to get the discount code. *A donation of $10 is made to the Hyland Cinema from each lecture series purchased.
Join our roster of acclaimed lecturers for dynamic six-week courses accompanied by handy online resources and Q&As. Courses are available to stream worldwide—tell your friends!
Series Registration: $49 (Hyland Members: $33)
The Secrets of Scandinavia
From Vikings to Hygge to the Nobel Prize, find out what makes the Nordic nations so unique in this exciting survey of Scandinavian history and culture.
Streaming as of May 27
Led by Dr. Carolyn Harris
The Age of Innovation: La Belle Époque
Curious Minds favourite Dr. Peter Harris returns to guide us through the social and artistic innovations that shaped Europe's cultural hotbeds at the turn of the 20th century.
Streaming until May 27
The Italian Renaissance
In his anticipated Curious Minds debut, world-renowned Renaissance scholar Dr. Kenneth Bartlett offers a richly illustrated survey of the great cultural flourishing that occurred on the Italian peninsula from the 14th to 16th centuries.
Streaming until April 30
The Buildings that Reshaped History
What are the buildings that have influenced the places we live, work and play? Longtime Toronto Star architecture critic Christopher Hume returns to assess history's most influential structures, and what they mean to us today.
Led by Christopher Hume
Spain: A Historical Journey
Embark on a virtual journey to the iconic landmarks, breathtaking landscapes and artistic masterpieces of Spain, one of Europe's most distinctive and captivating countrie
Led by Olivier Courteaux

The Magic of Musicals
An insider's guide to the biggest Broadway shows in history, from West Side Story and Fiddler on the Roof to Dream Girls and Les Mis.
Led by Michael Rubinoff, the Olivier Award-winning and Tony Award-nominated producer of Come From Away.
Streaming until Sept 30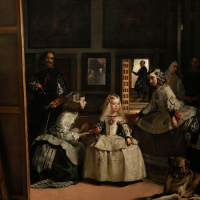 The Great Old Masters
Explore the influential work of The Old Masters: Titian, Caravaggio, Rubens, Rembrandt, Velázquez and Goya, and its lasting impact on generations of artists and art lovers.
Streaming until August 25
Led by acclaimed art lecturer Barbara Isherwood