Definitely, Maybe
Three relationships. Three disasters. One last chance.
Combining elements of a children's bedtime story, bittersweet New York romantic comedy, keep-'em-guessing mystery story and even political dramedy, "Definitely, Maybe" proves that there are still innovative ways to tell the oldest story of all, the one about two people falling in love. The film is the latest from England's Working Title production studio, the clever chaps who gave us "Four Weddings and a Funeral," "About a Boy," "Love, Actually" and several Coen brothers films. It follows Manhattan ad guy Will Hayes (Ryan Reynolds) through the days leading up to his divorce. His precocious young daughter Maya (Abigail Breslin), perplexed by all the complicated things that adults do with, and to, one another, asks how Dad and Mom met, and he obliges with a mostly true story. He assigns aliases to three women who touched his heart in the past 16 years -- the college sweetheart, the quirky confidante, and the passionate professional peer -- challenging the little girl to deduce which one he married. The film keeps audiences guessing, too, through creative and playful storytelling. At 10, Maya is young enough to be enthralled by a suspenseful yarn. But she's a hip-beyond-her-years 10. - Colin Cobert, Star Tribune
Showtimes:
No screenings currently scheduled.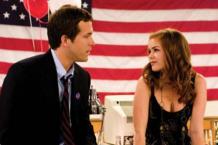 Starring:
Ryan Reynolds, Isla Fisher, Derek Luke, Abigail Breslin, Rachel Weisz Director: Adam Brooks Screenwriter: Adam Brooks Producer: Tim Bevan, Eric Fellner