Encounters at the End of the World
Filmmaker Werner Herzog travels to Antarctica to capture its landscape's rarely seen beauty on film.
At the beginning of the Antarctica documentary Encounters At The End Of The World, Werner Herzog guarantees the viewer that he did not travel to the frozen continent to make 'another film about penguins'. Rather, the South Pole's human inhabitants piqued Herzog's interest – the small but hearty community of researchers, scientists and assorted adventurers who make their home at the very bottom of the Earth. Upon arriving at McMurdo research station, Herzog finds intriguing characters en masse, among them a former Colorado banker who now drives a great hulking vehicle christened Ivan the Terra Bus, a journeyman plumber who claims to be descended from Aztec royalty, and a female researcher who once traveled from London to Nairobi in the back of a garbage truck. The film has a loose, episodic flow, punctuated by the director's own wry voiceover and his unerring eye for strangeness and eccentricity. Herzog is as struck by the forbidding vastness of Antarctica's 'seemingly endless void' as he is by the often incongruous objects dotting the otherwise vacant landscape – a yoga studio, an ATM, and a soft-serve ice-cream machine. Then, after promising not to do it, Herzog engages with a contemplative penguin behaviourist, who grudgingly responds to the director's queries about 'penguin prostitution.' Herzog then trains his camera upon a disoriented male penguin who has resolved, for reasons unknown, to trudge off toward Antarctica's sprawling interior and certain death. Leave it to Herzog to find the animal kingdom's equivalent of his many famed madmen protagonists. After decades of filming frontier societies, from the jungles of the Amazon (Aguirre, Fitzcarraldo) to the Australian outback (Where The Green Ants Dream), Antarctica represents a logical destination for Herzog; with Encounters, he becomes the first director to have shot a movie on all seven continents. He has arrived at a true final frontier; it would seem that the only logical place for him to take his camera next is outer space. As it is, there are many moments in which Herzog transforms the strange and wondrous sights and sounds of Antarctica into the landscape of an alien planet. – Scott Foundas, Variety
Showtimes:
No screenings currently scheduled.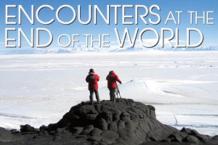 Directed by:
Werner Herzog