Every Little Step
A documentary which follows the casting of "A Chorus Line"
Every Little Step is an uncommonly tender and observant documentary on the phenomenon that is 'A Chorus Line', the Broadway production that changed entertainment by elevating the audition to a metaphor for life and making tv contests like 'American Idol' inevitable. Centred on the musical's 2006 revival on Broadway, the filmmakers slip into the auditions and follow the hopefuls back to their apartments. There, the dancers are asked the same question that choreographer-director Michael Bennet asked in 1974 when he was creating the original: 'Why are you a dancer?' To background the 2006 drama, the film intersperses audio clips from those wine-loosened 1974 reflections which provided the material for 'A Chorus Line', and even includes grainy archival footage of the original cast. Every Little Step is one of the most knowing performance documentaries ever made. It's also something more rare, perhaps - a great movie love story. The film captures dancers' love for what they do. And it is never afraid of wearing its own heart on its sleeve. One small, poignant moment has a dancer backstage being told that she's passed an audition. Broadway beckons, perhaps. Thrilled, she hurries to ang open the soundstage exitway, eager to dance into the world. Just as she's leaving, the camera lingers on a sign above the dancer's head that reads, 'Caution: open door slowly' - Stephen Cole, The Globe And Mail
Showtimes:
No screenings currently scheduled.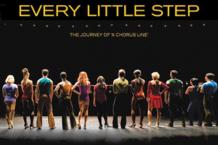 Directed by:
Adam Desl Deo & James D. Stern