My Blueberry Nights
By the director of "In The Mood For Love"
For his first English-language film, Hong Kong director Wong Kar Wai explores his favoured themes of love and loss in the traditional format of a road movie. Wrapped in an evocative Ry Cooder soundtrack that hits all the right notes and emotions, the film meanders from New York to Tennessee and Nevada. The America on view is visually stunning, with eye-watering landscapes, vistas, sunsets and sunrises. Albeit in a new setting, there are distinct echoes of Wong's earlier work, especially In The Mood For Love, in the way the auteur reflects on loneliness and romance and how, when it all goes wrong, life appears to come to a sudden and traumatic halt. The whole is suffused in a dreamlike atmosphere in which frequently it is difficult to tell whether it is day or night. Singer Norah Jones makes an impressive acting debut as Elizabeth. Still in the throes of recovering from a five-year relationship, she turns up in a diner run by an Englishman (Jude Law). There, he serves her the blueberry pie that always seems to be left over at the end of the evening. To try to sort out her life and her feelings, Elizabeth takes to the open road and ends up in Memphis, where her job as an itinerant waitress brings her into contact with an aging cop (David Strathairn) and his younger wife (Rachel Weisz), whose relationship also is in turmoil. Her next port of call is a Nevada casino, where she links up with Leslie (Natalie Portman), a feisty ill-fated gambler whose winning streak appears to have run out. The two of them take to the road together in a pairing that has distinct resonances of Thelma & Louise in the bonds of female friendship. The journey comes full circle with Elizabeth appearing back at the diner, possibly ready to pick up the threads of a romance with the Law character that Wong suggested were in the air at the beginning. With the clutch of strong performances, its stunning visual style and the accessibility of its English-language script, Wong should find a whole new set of admirers for his plaintive meditation – provided audiences still are in the mood for love. – Richard Mowe, Box Office Magazine
Showtimes:
No screenings currently scheduled.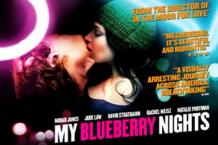 Directed by:
Wong Kar Wai
Starring:
Jude Law, Norah Jones, David Strathairn, Rachel Weisz, Natalie Portman
Screenplay by:
Lawrence Block, Wong Kar Wai