Pulp Fiction in 35mm.
20th Anniversary
FEBRUARY RETROMANIA!
TICKETS: $10
Outrageously violent, time-twisting, and in love with language, Pulp Fiction was widely considered the most influential American movie of the 1990s. Director and co-screenwriter Quentin Tarantino synthesized such seemingly disparate traditions as the syncopated language of David Mamet; the serious violence of American gangster movies, crime movies, and films noirs mixed up with the wacky violence of cartoons, video games, and Japanese animation; and the fragmented story-telling structures of such experimental classics as Citizen Kane, Rashomon, and La jetée. The Oscar-winning script by Tarantino and Roger Avary intertwines three stories, featuring Samuel L. Jackson and John Travolta, in the role that single-handedly reignited his career, as hit men who have philosophical interchanges on such topics as the French names for American fast food products; Bruce Willis as a boxer out of a 1940s B-movie; and such other stalwarts as Harvey Keitel, Tim Roth, Christopher Walken, Eric Stoltz, Ving Rhames, and Uma Thurman, whose dance sequence with Travolta proved an instant classic.~ Leo Charney, Rovi Official Trailer
Showtimes:
No screenings currently scheduled.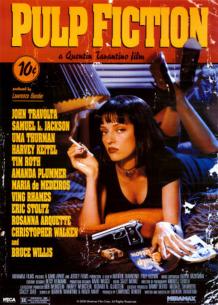 Directed by:
Quentin Tarantino
Starring:
John Travolta, Samuel L. Jackson, Uma Thurman, Harvey Keitel