The Return of the Living Dead
Nominated for 4 Saturn Awards by the Academy of Science Fiction, Fantasy and Horror Films.
At the Uneeda medical supply warehouse in Louisville, Kentucky, a bumbling foreman named Frank tries to impress the company's newest employee, Freddy, by showing him a large drum containing the mummified remains of a U.S. army experiment gone horribly wrong. However, Frank accidentally unleashes a toxic gas (as well as the corpse) inside the barrel, setting off a chain reaction that subsequently leads to reanimated dead bodies rising from the ground in the cemetery next to the warehouse. As Frank and Freddy grow increasingly ill due to their direct exposure to the gas, Freddy's friends, their boss Burt and a mortician named Ernie spend the night fighting for their lives against a swarm of fast, unstoppable and surprisingly clever flesh-eating zombies. Official Trailer
Showtimes:
No screenings currently scheduled.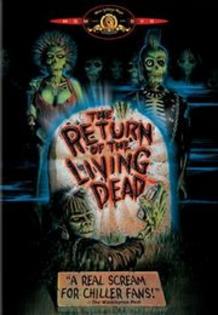 Directed by:
Dan O'Bannon
Starring:
Clu Gulager, James Karen, Don Calfa, Beverly Randolph, John Philbin, Linnea Quigley
Screenplay by:
Screenplay by Dan O'Bannon,