The Unknown Woman
Director Giuseppe Tornatore's (CINEMA PARADISO) haunting story of mystery and love.
The Unknown Woman is a vivid story of a young Eastern European prostitute who makes her way to Italy on a mysterious, probably nefarious mission. The film's startling opening scene takes place on a kind of private stage where trios of masked young women clad only in underwear and high heels are evaluated by an unseen man, like a director doing casting. The blonde he picks is Irina (Russian actress Xenia Rappoport) and her backstory, skillfully woven into the film through flashbacks, is the increasingly familiar one of a Ukrainian girl drawn into an international prostitution ring. In Irina's haunted memories, she is raped, tortured and put on the street by a bald brute known as Mold (Michele Placido). Present-day Irina is a mousy brunette of 32 who finds an underpaid job cleaning the stairs in an old apartment building in Northern Italy. Despite her humble pose, she walks around with a wad of cash in her pocket and is able to rent an expensive apartment, right across the street from the warring Adachers (Claudia Gerini and Pierfrancesco Favino) and their little girl Thea (Clara Dossena). Irina worms her way into their home and into Thea's affections; her unknown motives for doing so keep the story suspensefully on edge all the way to the end. Rappoport shows an impressive ability to keep the audience on her side. Her Irina qualifies as one of the most deeply nuanced film portraits of a woman who has lived through the hell of human slavery. Even after she manufactures an accident to get rid of the Adachers' nice live-in maid Gina (Piera Degli Esposti), Irina is still complex enough to stay on this side of total villainy. The Unknown Woman ranks as a return to form for director Giuseppe Tornatore, whose best films, ever since early features Cinema Paradiso and A Pure Formality have been marked by a similarly strong emotional focus. – Deborah Young, Variety
Showtimes:
No screenings currently scheduled.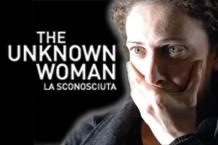 Directed by:
Giuseppe Tornatore
Country(ies):
Italy/France
Language:
Italian with English subtitles
Starring:
Xenia Rappoport, Michele Placido, Claudia Gerini, Margherita Buy, Pierfrancesco Favino
Screenplay by:
Giuseppe Tornatore, Massimo De Rita