Three Blind Mice
The lover. The gambler. The traitor.
Three young Australian sailors have a 24-hour shore leave before shipping out to Iraq. Harry (played by director Matthew Newton) is up for poker and prostitutes, Dean has to see his fiancée, and Sam would just like to avoid trouble. The story appears to be a modern-day, more realistic retelling of On The Town, the granddaddy of the sailors-on-leave-in-the-big-city genre, but this is no musical romp. In the time it takes for the bright lights of the Sydney evening to meld into the dull morning sun, things take an ugly turn as tensions erupt and booze-fueled attitudes arise. The narrative weaves along with the characters as they stumble through the streets of Sydney. At times brutal and gritty, Three Blind Mice also contains comedic touches and moments of tenderness to balance the weight of intense and uncomfortable situations. With its quick dialogue and strong leading performances, Three Blind Mice tells a story from many different perspectives and offers no answers or easy conclusions – just a new day with changed people. – Seattle International Film Festival
Showtimes:
No screenings currently scheduled.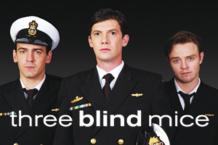 Directed by:
Matthew Newton
Starring:
Ewen Leslie, Toby Schmitz, Matthew Newton, Tina Bursill
Box office

»

Events

»

About Us

»