Gift Certificates & Memberships
Gift Certificates available in $5, $10, $20.
Gift Memberships also available $15.
A membership reduces admission from $13.50 to $9.50 for a full year.
You can purchase them at the cinema (11:30am-11:00pm)
OR We can mail them out to you or the recipient if purchased online or by phone. Visa, Mastercard & Debit accepted.

Purchase Gift Certificate Here
Donate

Please consider donating a Loonie for each ticket you purchase.
100% of Donations go to digital projector fund.
Help us ensure the Hyland Cinema can continue to screen "The Best Films in the World".
DONATIONS OPTIONS:
Donation box at cinema
Print, mail/drop off donation via donation form (cheque,credit card) – by secured payment through Paypal
Thank you for your generous donations!!!
Be Part of London's Cinema History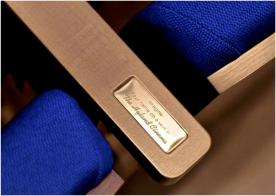 As part of our digital projector fundraiser we are offering a chance to purchase a name plaque that will be put on the armrest of one of the 400 seats at the Hyland Cinema. You can put two names per seat if you want to be together!