Hyland Box Office
Ticket Pricing
MEMBERS: $9.50
NON-MEMBERS: $13.50
ANNUAL MEMBERSHIP: $15.00 (Expires one year from at the date of purchase)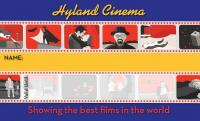 We accept cash, debit, Mastercard and Visa. Note:
Separate admission required for each show.
Advance tickets are available online. Click the Read More/Buy Tickets button
Special events tickets are usually sold in advance online
MEMBERSHIPS, GIFT MEMBERSHIPS & GIFT CERTIFICATES
Hyland Cinema memberships are valid for 12 months from the date of purchase. They can be purchased at the box office when you join us for a movie, online, or by mail.
Present card at the box office every time, otherwise you will not obtain the member's discount.
Please keep your membership card in a safe place. Only the new electronic cards can be replaced. There is a $1.00 replacement fee.
Please note that Hyland Cinema membership cards are not transferable; it is for your personal use only.
You may also purchase a membership for through the mail at the slightly higher cost of $16.00.
Purchase:
In person at Box Office (we except Cash, Interac, VISA, MasterCard)
ONLINE Here
Where is Hyland Cinema?
The Hyland Cinema is located at 240 Wharncliffe Road South, just south of Elmwood Street and north of Duchess. We are across the street from FX Glass and Forest City Tirecraft London. There is an entrance to the parking lot on the North side of the building and off Duchess Street beside the park. Click on map above for more information.
Parking
There are 35 parking spots behind the cinema. The best way to access the lot is to come through the laneway on the west side of the park on Duchess Street. There is also parking available on Duchess Street, the surrounding streets and on the streets off the west side of Wharncliffe Road. Taking the bus? London Transit Commission Routes
Southcrest (11)
Wharncliffe (12)
Jalna (26)
or use LTC routes.