The original 514-seat Hyland cinema opened as the Elmwood in the Depression-laden 1930s. The south London showplace offered double features made up of second-run movies. Later, it became a first-run art house specializing in British films such as Henry V, starring Laurence Olivier.
In 1945 it was one of the first theatres in Canada to screen the Academy Award winning film "The Best Years of Our Lives",
starring Myrna Loy. In 1959 the Elmwood was bought by Odeon and named Hyland. Its first show, the slapstick comedy "Carry On Nurse", ran for four months. The Hyland continued to attract an audience as a neighbourhood cinema as well as from a broader region. In 1965 it premiered "The Sound of Music" which ran for 73 weeks and holds the record for the longest stay.
Sometime in the 1970s the cinema was redesigned, the door was moved from under the marquee to the left of the building in order to add a concession, a larger lobby and washrooms in the lower level. The sound and projection systems were also upgraded.Many Londoners remember watching their first film at the theatre, which premiered such big box offices hits as "E.T. The Extra Terrestrial", "Back to the Future", and "Field of Dreams". The cinema was not without controversy, when in 1988 it was picketed for showing "The Last Temptation of Christ".
The cinema scene changed rapidly in the late 1980's. Cinema multiplexes were becoming the most popular venue. Cineplex Odeon Corp. opened the Galleria Cinema complex with six "state of the art" theatres that could accommodate up to 1,883 moviegoers.
In October of 1989 the Hyland cinema was reborn as a "film ministry" of the Christian Centre of London. The building was purchased from Cineplex Odeon whom had planned to strip the Hyland but left the screen, seats and projectors intact for the ministry. The building was sold again in 2001.
There was some debate over the new name for movie house but it has been renamed the Hyland Cinema to reclaim its place as a true London landmark and to acknowledge its cinema history in London. The new 414-seat single screen Hyland Cinema is independently owned and operated. It is newly renovated with an excellent projection and sound system as well as a new screen. The cinema will premiere the most up-to-date releases from the Toronto, Cannes, and Sundance Film Festivals.
The Hyland Cinema will provide a wonderful venue for viewing the best art and international films in the world but it will also provide a more traditional and affordable night at the movies!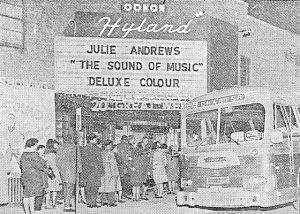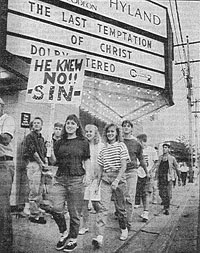 On August 17th, 1989 when the Galleria opened, the Hyland closed its doors.
Photos courtesy of London Free Press
History information courtesy of the London Free Press Articles:
An Era Ends, Noel Gallagher. 1989
Hyland a Wharncliffe landmark, Then and Now, staff
Theatre 'reborn ' as Christian centre, Noel Gallagher, 1989
Academy Award Coming..., 1947, staff
Scorsese film a 'tempest in a teapot, Joel Rubinoff, 1988