Drive-In
What makes our Drive-in special?
What Makes Our Drive-In Special?
It's right in town and WE DELIVER your CONCESSIONS to you!
Best Drive-In Burgers & Dogs!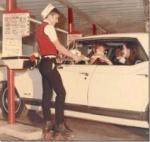 How the Drive-In Works
$40/vehicle (that's one vehicle & a $14.00 Concession Coupon) We recommend 2 persons/vehicle because back seating viewing is poor - but you can bring up to 4 people. A concessions/merchadise voucher will be emailed to you.
Please enter by the Duchess Gates : Gates Open: Half hour before the show, Show Start: Dusk - Check on website as time changes with shortening days.
Check back soon for more Drive-In movies!