Another Year
From acclaimed director Mike Leigh.
Mike Leigh isn't the sort of filmmaker to make major departures with each new film, to decide suddenly to experiment with sci-fi or set an entire film in a broom cupboard. He can certainly surprise, as with the hellish urban odyssey of Naked or the Victorian operatics of Topsy-Turvy, but mostly this 67-year-old British director makes contemporary, humane dramas about fictional ordinary folk and, from film to film, gently builds on themes and interests relating to how, why and where we live our lives today. But there's a cyclical, contemplative tone to Another Year that's unfamiliar, especially after the short, sharp energy bursts of Happy-Go-Lucky and the climactic tragedy of Vera Drake. Yet there's a wisdom and restraint to this film and a confidence of purpose that makes it Leigh's most mature work to date. It follows a year in the life of a sixtysomething couple, Gerri (Ruth Sheen) and Tom (Jim Broadbent). They live together in a home on a quiet street somewhere in suburbia that reflects their settled, earthy personalities. They're social creatures, and it's their interaction with friends and family that Leigh focuses on, mostly in their home, over lunch, dinner or a drink at their kitchen table. Through Gerri and Tom, we meet others at close quarters. Some, we encounter briefly, such as Gerri's depressed patient, Janet (Imelda Staunton), or a friend, Jack (Phil Davis), with an absent, troubled wife. Others, we come to know better. There's their old friend Ken (Peter Wight), who visits from the North during the summer and masks an unhappy personal life with ample smoking, drinking and eating, and their son, Joe (Oliver Maltman), a balanced professional who seems sanguine about being single, and pops round to see them at home or at their allotment garden. It's at the latter where we see Gerri and Tom at work each season, their gardening offering a nod to the film's sense of time passing, cycles turning and life going by as we move through spring, summer, fall, and winter, each chapter titled as such. Later on, during a beautifully filmed, sombre winter trip to a funeral in Derby, we meet Ronnie (David Bradley), Tom's older brother, a quiet, bereaved man, a world away in experience and aura from his sibling. Each of Gerri and Tom's friends and family members throw light on how stable and contented Tom and Gerri's lives are, and vice versa. But none more so than Mary (Lesley Manville), a colleague of Gerri, a secretary, a little younger, and a woman whose self-image is all askew. She's single and unhappy, with a traumatic romantic history, but tries to hide it through mania, wishful thinking, delusions about her age and, again, alcohol. Mary emerges as the film's great tragedy, the embodiment of Gerri's comment: 'Life's not always kind, is it?' Her presence turns Another Year from a study of contentment into a portrait of loneliness and longing. Mary tests the patience of both her friends and us, bringing us to another of Leigh's chief interests: the limits of compassion. How far can we go to help others? Is there always an element of self-interest to caring? And why do we seek comfort in those who can't offer it? They are all questions that ring in our ears as the film closes on a powerful, open image. It reminds us of Manville's quietly devastating performance and the stellar work of her fellow cast. – Dave Calhoun, Time Out London Official Trailer
Showtimes:
No screenings currently scheduled.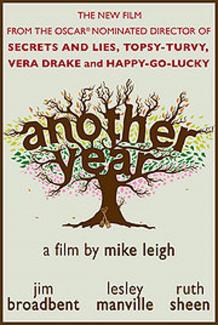 Starring:
Jim Broadbent, Ruth Sheen, Lesley Manville Peter Wight, Oliver Maltman, Phil Davis, Imelda Staunton