BONES OF CROWS is told through the eyes of Cree Matriarch Aline Spears as she survives a childhood in Canada's residential school system to continue her family's generational fight in the face of systemic starvation, racism, and sexual abuse. She uses her uncanny ability to understand and translate codes into working for a special division of the Canadian Air Force as a Cree code talker in World War II. The story unfolds over 100 years with a cumulative force that propels us into the future.
Bones of Crows is a striking cinematic response to Canada's 'reign of terror against Indigenous people' Social SharingDirector Marie Clements' new film confronts the hard truths about the residential school experience
Marie Clements · CBC Arts · Posted: Sep 12, 2022 12:15 PM EDT | Last Updated: September 12, 2022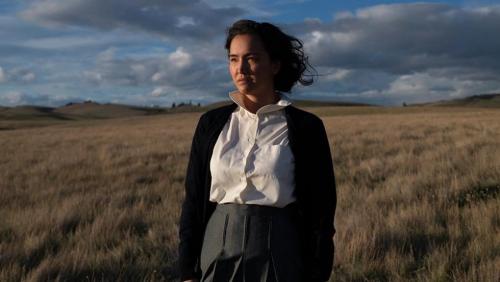 Grace Dove in Bones of Crows. (TIFF)
Cutaways is a personal essay series where filmmakers tell the story of how their film was made. This TIFF 2022 edition by Marie Clements focuses on her film Bones of Crows, which follows a young Indigenous woman through her life as she is sent to residential school and eventually enlists in the military.
When my mother was passing away, a Catholic priest was doing his rounds in the hospital and asked if he could come in and give her last rites. She pretended to be sleeping and gave me a nod, which translated to, "Make him go away."
I politely told him my mother was resting. He came in the next day. The same ritual. The next. She would open her eyes when he turned his back, the hospital door open; we would watch him make his way down the long hospital corridor. His black suit. His black shoes on the floor, his black overcoat catching movement. He would stop at hospital doors on his journey down, poking his head in when he could. Smiling.
On her last day, we were watching him like we did. My mother looked at him making his way and then at me — and smiled too. They are like crows... they always try and get you when you're down.
....Continue