Burn After Reading
Intelligence is relative.
At the headquarters of the Central Intelligence Agency, analyst Osbourne Cox (John Malkovich) arrives for a top-secret meeting. Unfortunately, the news is not good; he is being ousted. Cox does not take this particularly well and returns to his Georgetown home to work on his memoirs and his drinking, not necessarily in that order. His wife Katie (Tilda Swinton) is dismayed, though not particularly surprised; she is already well into an illicit affair with Harry Pfarrer (George Clooney), a married federal marshal, and sets about making plans to leave Osbourne for Harry. Elsewhere in the Washington, D.C. suburbs, and seemingly worlds apart, Hardbodies Fitness Centers employee Linda Litzke (Frances McDormand) can barely concentrate on her work. She is consumed with her life plan for extensive cosmetic surgery, and confides her mission to can-do colleague Chad Feldheimer (Brad Pitt). Linda is all but oblivious to the fact that the gym's manager Ted Treffon (Richard Jenkins) is pining for her. When a computer disc containing material for the CIA analyst's memoirs accidentally falls into the hands of Linda and Chad, the duo are intent on exploiting their find. As Ted frets, 'No good can come of this,' events spiral out of everyone's control, in a cascading series of darkly hilarious encounters. – Focus Features/Working Title
Showtimes:
No screenings currently scheduled.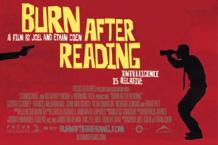 Directed by:
Joel Coen & Ethan Coen
Starring:
Brad Pitt, George Clooney, John Malkovich, Tilda Swinton, Frances McDormand, Richard Jenkins