City of Men
An unforgettable tale of friendship and survival in a city where the greatest challenge is growing up.
In CITY OF MEN, producer Fernando Meirelles (The Constant Gardner) returns to the Brazilian favelas of his Academy Award-nominated film, City of God. Growing up in a culture dictated by violence and run by street gangs, teenagers Acerola (Douglas Silva) and Laranjinha (Darlan Cunha) have become close as brothers. With their eighteenth birthdays fast approaching, Laranjinha sets out to find the father he never met, while Acerola struggles to raise his own young son. But when they suddenly find themselves on opposite sides of a gang war, the lifelong friends are forced to confront a shocking secret from their shared past. --© Miramax Films
Showtimes:
No screenings currently scheduled.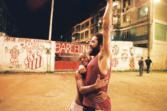 Directed by:
Paulo Morelli
Starring:
Darlan Cunha, Douglas Silva, Jonathan Haagensen, Rodrigo Dos Santos, Camila Monteiro
Screenplay by:
Elena Soarez(screenplay)based on a story by Paulo Morelli
Box office

»

Events

»

About Us

»