Elegy
ike director Isabel Coixet's previous film MY LIFE WITHOUT ME, ELEGY is consumed by the ideas of love and mortality. But while that film focused on a young protagonist, the hero of this drama is an aging writer and professor played by Ben Kingsley. David Kepesh (Kingsley) is a minor literary celebrity in New York City who shies away from commitment, happy with his casual relationship with a businesswoman (Patricia Clarkson) who is rarely in town. But a date with a stunning grad student named Consuela (Penelope Cruz) surprisingly turns into a long-term romance, changing David from a confident Lothario into a jealous boyfriend. His age and her beauty haunt their romance until David begins to push her away. As its title suggests, ELEGY achieves a perfectly somber tone. Adapted from the Philip Roth novel THE DYING ANIMAL, the script from Nicholas Meyer (THE HUMAN STAIN) doesn't try too hard for the audience's tears. But much of the credit goes to the cast: Kingsley and Cruz make for a sexy, affectionate couple with their layered performances, and Clarkson (THE STATION AGENT) is wonderful as always. Dennis Hopper is nicely cast as David's philandering friend George, and Blondie frontwoman Deborah Harry is very non-rock-and-roll (but incredibly genuine) in a small appearance as George's longsuffering wife. The largely classical soundtrack further adds to the film's contemplative mood.
Showtimes:
No screenings currently scheduled.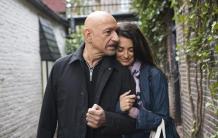 Directed by:
Isabel Coixet
Starring:
Ben Kingsley, Patricia Clarkson, Penelope Cruz
Screenplay by:
Nicholas Meyer based on Pulitzer Prize-winner Philip Roths short novel "The Dying Animal"