Fugitive Pieces
He found himself in the love around him.
Nuanced, scrupulous and powerful, Fugitive Pieces begins in wartime Poland, from which nine-year-old Jakob (Robbie Kay), fleeing Nazis who have murdered his parents and kidnapped his sister, escapes with the help of a Greek archaeologist named Athos (Serbedzija). The remainder of this lyrical, nonlinear film, based on a novel by Anne Michaels, chronicles Jakob's painful struggle over the ensuing decades to deal with this primal loss, first as a child on the island of Zakynthos and later as an adult (played by Dillane) in postwar Canada. Among the casualties in this emotional battlefield is Jakob's marriage to his first wife, Alex (Pike), a caring woman whose raw vitality only deepens his isolation. At one point Alex calls Jakob's obsession with the details of the Nazi extermination 'obscene,' and it's a concern that Fugitive Pieces takes quite seriously. While haunted by the aftereffects of violence, the movie itself is nearly devoid of it – even the shooting of Jakob's parents is represented only by an obstructed view of a head falling out of frame. Triggered by key sights and sounds, the pervasive flashbacks suggest the physical nature of memory, locating the source of Jakob's pain inside his very senses, and rendering the film's final, redemptive scenes all the more meaningful. – Joshua Land, Time Out New York
Showtimes:
No screenings currently scheduled.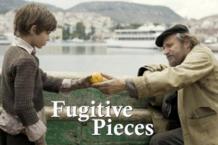 Directed by:
Jeremy Podeswa
Country(ies):
Canada/Greece
Language:
English with some Greek, Yiddish, and German with English subtitles
Starring:
Stephen Dillane, Rade Sherbedgia, Rosamund Pike, Robbie Kay
Screenplay by:
Jeremy Podeswa. Based on the novel by Anne Michaels.