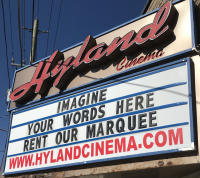 If you would like to continue to support us during full shutdown:

Watch a film on Hyland@Home
(helps support us & distributors)

Watch one of the Curious Minds Speaker Series
(donates $10 to Hyland)

Check out our Merchandise

Donate

Sponsor a Film (you can personalize it)

Put a Message on the Marquee

Buy a Seat Plaque
We want to take a moment to thank all our supporters! We are almost there. We will see you back at the cinema real soon.