Howl
A drama centered on the obscenity trial of Allen Ginsberg.
The film sprouting from Allen Ginsberg's 'Howl' could have been a documentary compiled from interviews, casting smoky light on the late poet's inspirations. It could have been a courtroom drama re-creating the McCarthy-era obscenity trial that followed the landmark poem's publication. Or it could have been some far-flung animated representation of Ginsberg's long-breathed, flowing, sometimes brutal images of 'the best minds of [his] generation destroyed by madness.' So which approach would much-honoured documentarians Rob Epstein and Jeffrey Friedman choose? The answer is all of them. These three angles are twisted into the film's shape. James Franco plays the young Ginsberg circa the poem's debut and subsequent controversy. We see (and hear) him at the initial public reading in 1955 San Francisco and in flashbacks reflecting some of his important relationships with other seminal Beat figures such as Jack Kerouac and Neal Cassady. An imagined interview also unearths foundations of 'Howl' – Ginsberg's loves and lusts; his failures and repression; his mother's lobotomy; his own time in a mental ward; the harrowing journey of a fellow patient. These pieces are intercut with courtroom scenes reenacted from trial transcripts in which a notoriously conservative judge (Bob Balaban) must weigh the interests of protecting society from obscenity and protecting freedom of expression. A parade of good actors (including David Strathairn, the ubiquitous Jon Hamm and Mary-Louise Parker in a hilarious, all-too-brief appearance) brings the crucial debate to life. The trial not only provides something of a narrative framework but also reminds us of the stilted, gray world into which Ginsberg's throaty burst of impolite colour was born. That 'colour' includes all the hues of a rainbow flag: The poet's unapologetic portrayal of homosexuality was one of the more controversial aspects of the work, adding to the degree of difficulty for a poem that so challenged social and literary conventions (a substantial part of the legal battle was over whether it had literary merit). Ginsberg collaborator Eric Drooker helps bring all the pieces together with his disturbing designs for the poem's animated depictions. The often-gloomy images of imprisoning cityscapes and the monstrous embodiment of capitalism as a demon called Moloch combine agitprop with the horrifying grace of Gerald Scarfe's Pink Floyd animations. It's an unusual filmic structure, with these different approaches weaving in and out of one another, but entirely appropriate for so groundbreaking a poem. Whether Epstein and Friedman (who collaborated previously on The Celluloid Closet), between them recipients of two Oscars and three Peabody awards, have captured perhaps the most essential emotional elements – the agony that spurred Ginsberg's visceral cry and its crazed, naked sprint for freedom – is subjective. But the film of Howl, like its source material, is undeniably brave, committed and inventive. – Michael Ordoña, The Los Angeles Times Official Trailer
Showtimes:
No screenings currently scheduled.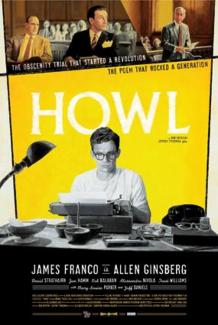 Directed by:
Rob Epstein Jeffrey Friedman
Starring:
James Franco, Aaron Tveit, Jon Hamm, David Strathairn, Mary-Louise Parker, Jon Prescott, Alessandro Nivola, Bob Balaban, Jeff Daniels, Treat Williams
Screenplay by:
Rob Epstein, Jeffrey Friedman