I Love You Phillip Morris
Do some time with the one you love.
Family man Steven Russell (Carrey) has a secret: he's gay. Well, two secrets: he's also a con man. When he's jailed for fraud, he falls in love with inmate Phillip Morris (McGregor), but staying together isn't going to be easy... I Love You Phillip Morris begins with a shot of an emaciated Jim Carrey, lying on a gurney, pining for death in a plaintive voiceover. For those of us who have endured Carrey's attempts at overwhelming Oscar with a tsunami of sentiment, this is not a good sign. You could be forgiven for thinking that what will follow is 90 minutes of cloying worthiness. Thankfully, though, this is a film – like its main character – that takes enormous pleasure in cheating, lying and defying expectations. As it turns out, this is not an asinine Oscar grab, but one of the sharpest, blackest and funniest comedies of the year. That it actually mutates into a truly touching and very moving love story featuring a stunning Carrey turn that should have, in an ideal world, resulted in an Oscar nod, is a happy accident. The movie's title refers to the love of Steven's life, and while McGregor is fine as Phillip, a sweet, almost unrealistically innocent naif, it's Carrey we follow throughout, with the comedian enjoying a dream role that allows him to combine his old-school comedic box of tricks – the pratfalls, the sweaty, manic intensity and even the odd rubber-faced gurn – with an emotional honesty that feels earned and genuine. Ficarra and Requa, the debutant writer/directors here, wrote Bad Santa, and there's no doubt they're both drawn from the same, scabrous gene pool, with the duo tackling gags of all shapes and sizes, on any number of subjects, from anal sex (although, crucially, the fact that Steven and Phillip are gay is never a punchline) to corporate fraud. But they also bring a welcome panache to the material, with neatly framed visual jokes and one sustained sequence, in which a mouthy inmate hurls abuse at guards, that borders on the sublime. And if, occasionally, their handling of the film's more serious moments isn't quite as sure-handed as the comedy, rest assured in the knowledge that the rug will soon be pulled from under your feet, and the laughter will begin again. Trust us. – Empire (U.K.) Official Trailer
Showtimes:
No screenings currently scheduled.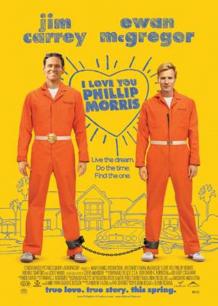 Directed by:
Glenn Ficarra, John Requa
Starring:
Jim Carrey, Ewan McGregor, Leslie Mann, Rodrigo Santoro
Screenplay by:
screenplay: Glenn Ficarra, John Requa, based on "I Love You Phillip Morris: A True Story of Life, Love, and Prison Breaks" by Steven McVickerl