Miracle at St. Anna
World War II has its heroes and its miracles.
All Spike Lee's movies, from SHE'S GOTTA HAVE IT forward, have tackled big ideas head-on using wide strokes to a paint a picture that is both impressionistic and realistic. Though not the most subtle director, Lee has consistently challenged both his audience and himself. His step into genre filmmaking with 2006's INSIDE MAN was a delightful surprise, and though he continues down this road somewhat with the World War II film MIRACLE AT ST. ANNA, he also returns with force to the realm of the big idea. The first film ever to tell the story of the Army's all African-American Buffalo Soldier unit, MIRACLE AT ST. ANNA is inherently an important film. Yet rather than allow it to stand on its own as simply a war picture starring African-American actors, Lee takes on myriad social and historical discussions. Based on the novel of the same name by James McBride (who also wrote the script), the movie follows four soldiers as they take refuge in an Italian village after being cut off from their platoon. There are various supernatural elements to the film, the most pronounced of which is a mysterious statue head that one soldier acquires and refuses to part with. There's also a framing device involving a murder nearly 40 years after the conclusion of the war; add to that a subplot involving the Italian resistance movement, and it's easy to get a bit lost in this Byzantine tale. Still, Lee is never anything less than passionate about his subjects, and with MIRACLE AT ST. ANNA he brings that fire to a story that took decades to come to the big screen. Perhaps not the most definitive "Spike Lee Joint," MIRACLE remains a noteworthy film in the canon of one of America's most important filmmakers.
Showtimes:
No screenings currently scheduled.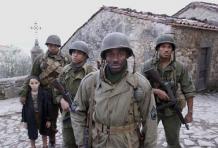 Starring:
Derek Luke, Michael Ealy, Laz Alonso, Omar Benson Miller, Pierfrancesco Favino, Valentina Cervi, Matteo Sciabord, John Turturro