THE GREAT OLD MASTERS - Streaming Feb. 25th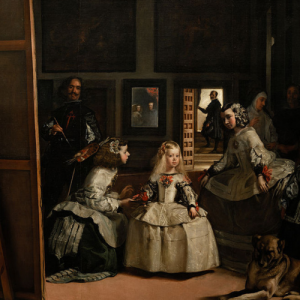 Titian, Caravaggio, Rubens, Rembrandt, Velázquez and Goya—the names alone are enough to bring your mind and your senses to life!
In her Curious Minds debut, acclaimed art lecturer Barbara Isherwood will explore how these influential painters changed the face of art history and earned an illustrious, centuries-spanning accolade: The Old Masters. From Titian's use of sensual colour to the startling realism of Caravaggio to Rembrandt's use of dramatic light, we'll examine the impact these "painter's painters" have had on generations of artists and art lovers, and why their work remains as relevant today as it was when it was painted.
Led by art critic and art historian, Barbara Isherwood, the host of ArtSync TV and a frequent lecturer at the School of Continuing Studies, University of Toronto. With an M.A. in Art History and decades of writing and teaching experience, Barbara is an energetic educator who brings infectious passion and clear-eyed analysis to history's greatest artworks—no boring academic language or opaque artspeak allowed!
The six lectures in this series will all be available to stream as of Thursday, February 25. Once they are online, you can access each lecture at your leisure by clicking on links in your confirmation email, or by visiting your My Shows page.
Lecture 1: Titian
A celebrated master of the Venetian Renaissance, Titian was the go-to portrait painter of princes across Europe, as well as a tremendous innovator in the realm of sacred paintings, presenting Bible stories with an unprecedented naturalism and vivacity. We'll examine his greatest works and learn how a novel collaboration with a Spanish king led to the birth of a whole new type of picture: the "poesie", his poetic paintings of mythological figures.
Lecture 2: Caravaggio
Caravaggio's reputation as an incorrigible bad boy sometimes overshadows his tremendous achievements as a painter whose dramatic use of light influenced generations of later artists. We'll discover how Caravaggio's use of models recruited from the streets of Rome shocked church officials, and review some of the theories as to how he achieved his remarkably lifelike results.
Lecture 3: Rubens
A giant of the Baroque, Rubens combined the vigour of Michelangelo, the colour of Titian and the realism of the Northern European tradition to create a vivacious new style that answered the Catholic Church's call for paintings to inspire the faithful. In addition to his celebrated altarpieces and regal portraits, we'll also discover how the landscape paintings Rubens did for his own pleasure influenced the great English landscape painters.
Lecture 4: Velázquez
A true "painter's painter", Velázquez spent his career at the service of the Spanish court, capturing living likenesses in which he balanced the requisite idealism with bravura brushwork. We'll look at the breathtaking realism of his early genre scenes, his dazzling portraits of the Hapsburgs and their retinues, and of course the artist's most famous painting, Las Meninas, an enigmatic work that has inspired artists from Manet to Picasso to Salvador Dalí.
Lecture 5: Rembrandt
The most renowned of the Dutch Old Masters, Rembrandt's style evolved from the highly polished manner that won him commissions from Amsterdam's elite, to a deeply personal approach in which Caravaggesque lighting is combined with a loose yet deft paint handling not seen previously. We'll analyze the artist's innovative take on the group portrait (the so-called "Night Watch" ), his poignant self-portraits, the quietly intimate religious scenes painted in his later years, and his highly original approach to print making.
Lecture 6: Goya
From scathing social commentary to society portraits to paintings that seem to emanate from the darkest recesses of the mind, Goya's art remains as relevant today as when it was painted. We'll look at his ground-breaking treatment of topical subjects, his portraits of Madrid's rich and famous, his two great print series and their highly subversive content, and the haunting Black Paintings, with which Goya surrounded himself in his final home.