The Infidel
Is it a Muslim? Is it a Jew? No! It's.... The Infidel!
Omid Djalili (a popular stand-up comedian in his native Britain) plays Mahmud Nasir, a Muslim minicab driver and family man in east London with a placidly contented home life. Probably the most fervent enthusiasm in his life is signalled by his Tottenham Hotspurs replica shirt, though this also signals a hint of something that fate has in store for him. The recent death of his mother has caused laid-back Mahmud to go into an unusual, emotionally fragile state, compounded by his son's recent engagement to the daughter of a notorious radical jihadist from Pakistan. It is when Mahmud is clearing out his mum's things, that he chances upon his old birth certificate, from which he learns that he is adopted, that his given name is Solly, and that he is Jewish. The news triggers a slow-motion breakdown in Mahmud, and an agonising need to explore his Jewish self, to which end he befriends the only Jew he knows: a clinically depressed, borderline-alcoholic American black-cab driver called Lenny, played by Richard Schiff, who tries to teach him how to be Jewish. This does not mean education about Judaism as such, but tutorials in saying 'oy' and how to respond to the musical soundtrack of Fiddler On The Roof. Mahmud's identity crisis comes to a crunch when he is discovered to be secretly wearing a yarmulke at a 'Free Palestine' meeting. As if in some awful satirical nightmare, Mahmoud is turning from a mildly Judeophobic Muslim into a mildly self-loathing Jew. His two identities are coloured by a third: Mahmud the common sense secular rationalist, who senses that religio-tribal 'identity' of this or any sort is comforting, but absurd. The comedy is knockabout, but the sheer tactlessness is part of what makes it funny, along with Djalili's great big expressive, rubbery face, experimenting in the mirror with what he imagines to be the stoic grimaces of Judaism, and pondering the nature of his semitic identity. He has a great double act with Richard Schiff, whose comic skill is a marvel and revelation to those who know him only from 'The West Wing'. Comedy can sometimes tackle themes that more serious films would shy away from. This is one. – Peter Bradshaw, The Guardian Official Trailer
Showtimes:
No screenings currently scheduled.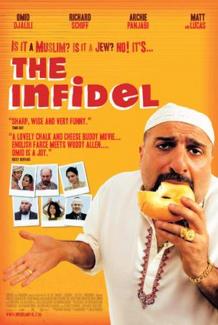 Directed by:
Josh Appignanesi
Starring:
Omid Djalili, Archie Panjabi, Richard Schiff, Matt Lucas, Yigal Naor