The Young Victoria
From the director of C.R.A.Z.Y. and writer of Gosford Park!
Directed by Jean-Marc Vallée from a script by Julian Fellowes, The Young Victoria stars Emily Blunt as, well, the young Queen Victoria. After a few brief scenes with Victoria as a young girl, the story properly begins with Victoria as a teenager (Blunt), whose easily-led mother (Miranda Richardson) is conspiring with her scheming private secretary (Mark Strong as Sir John Conroy) to prevent Victoria from becoming Queen on the grounds that she's too young. However, the favouritism of King William (Jim Broadbent), coupled with her strong relationship with the Prime Minister (Paul Bettany as Lord Melbourne) ensures that Victoria's path to the throne proceeds according to plan. Meanwhile, Victoria is pressured to take a husband and finds herself falling for her cousin Albert (Rupert Friend), despite the objections of those around her. Emily Blunt effortlessly anchors the film with a wonderful performance that's delightful to watch; she also has terrific chemistry with Rupert Friend, who gives an equally assured performance that shows why he's fast becoming one of Britain's best young actors. Fellowes' script is extremely good, detailing the tension of the political wrangling that surrounds Victoria, while also presenting an emotionally engaging love story and offering intriguing glimpses of the world outside the Palace gates. That said, he's not above a little tweak for dramatic effect – the film's most dramatic moment (involving an assassin's bullet) didn't happen quite the way it's portrayed on screen. In short, The Young Victoria is a highly enjoyable historical drama that deserves to be a huge hit, thanks to an engaging script and superb performances from Blunt and Friend. Highly recommended. – Matthew Turner, ViewLondon
Showtimes:
No screenings currently scheduled.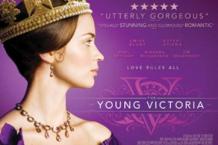 Directed by:
Jean-Marc Vallée
Starring:
Emily Blunt, Rupert Friend, Miranda Richardson, Jim Broadbent, Paul Bettany, Mark Strong